Ordering Information
To place a volume book order please contact us directly.

Correspondence:
1730 Rainbow Drive
Clearwater, FL 33755
Office: +1 646 233 4366
Direct: +1 727 565 2130

Wholesale pricing available upon request
These are the current year listings. To order prior year book listing please contact us at the above indicated sources.
Would you like to be included in our next catalogue issue? If you are a self-published author you are welcome to submit, for consideration, your request for inclusion. Simply remit the listing fees and submitting a copy of your book (include the cover image) to the email address listed above. If your book listing or advertisement is not accepted you will receive a full refund within 30 days of order.
Winter Edition Deadline:  All content must reach the office no later than Sep 15, 2016 end of day.
| | | |
| --- | --- | --- |
| | | |
| Book Listing - $10 ea. | | |
| | | |
| Advertising or Author Bio Listing | | |
| | | |
Congratulations on reaching #1 Best-Seller status on on Amazon, the world's foremost book sales platform! This is no small achievement. However, because Amazon rules state that their name must not be included on your book cover on their website—and other book sellers don't wish to promote another book seller—to enable you to show your success #1 Amazon Best Seller seals are now available for purchase.
* Note: These seals may only be used on any books you personally sell, give away, or donate.
Pricing Options*
For authors who have reached Best-Seller on Amazon, we have a design for you as well.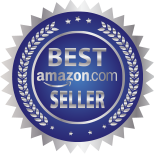 * All sales final. Shipping included within the continental United States. Please allow three weeks for delivery.
This is the button that every author needs to wear as part of their daily dress! Why? It works! When you wear your "Ask Me About My Book" button be prepared to hand out your bookmarks or business cards. You'll definitley need them. Oh, and don't forget to have a book or two in your purse, briefcase, or car.**
<!-Begin Ask Me Button Form-->
** All sales final. Shipping based on current rates. Estimated shipping and handling fees subject to change.